Posted on Tue Mar 10, 2015 3:51 pm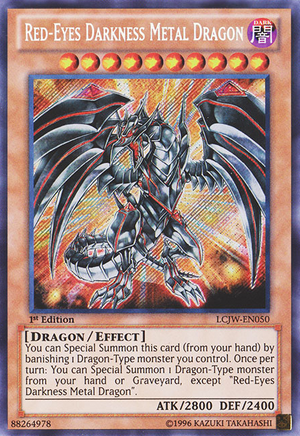 You can Special Summon this card (from your hand) by banishing 1 Dragon-Type monster you control. Once per turn: You can Special Summon 1 Dragon-Type monster from your hand or Graveyard, except "Red-Eyes Darkness Metal Dragon".
This card has been limited for a while, do you guys think it could go to semi-limited? All the decks that used/could use it are dead and the game has power creeped too much for them to be relevant again. Chaos Dragons were the top dogs of one format, and one format only. I seriously doubt they would be capable of anything in todays age of yugioh even with REDMD at 2. D Rulers are just terrible with every single one of their cards either banned or limited (most hits Konami ever had to do on one freaking archetype), and adding REDMD to two wouldn't bring them back. Dragunity are bad without Ravine and should feel bad. Hieratic are bad, always have been bad, and never won't be bad.
So yea, I think this card can go up to two.