Posted on Sat Sep 27, 2014 3:18 am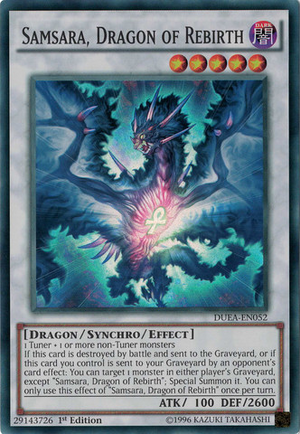 1 Tuner + 1 or more non-Tuner monster
If this card is destroyed by battle and sent to the Graveyard, or if this card you control is sent to your Graveyard by an opponent's card effect: You can target 1 monster in either player's Graveyard, except "Samsara, Dragon of Rebirth"; Special Summon it. You can only use this effect of "Samsara, Dragon of Rebirth" once per turn.
Indirect support card for Yang Zings, it's an amazing as a "stall" machine in Yang Zings as your opponent does not want to destroy it or leave it on the field, Burning Abyss is currently the only deck who's able to get rid of it fast without making it's effect go off, of course there is Castel for Rank 4 decks, but that might not work if Yang Zings get out Skill Drain!