Posted on Sun Sep 28, 2014 7:28 am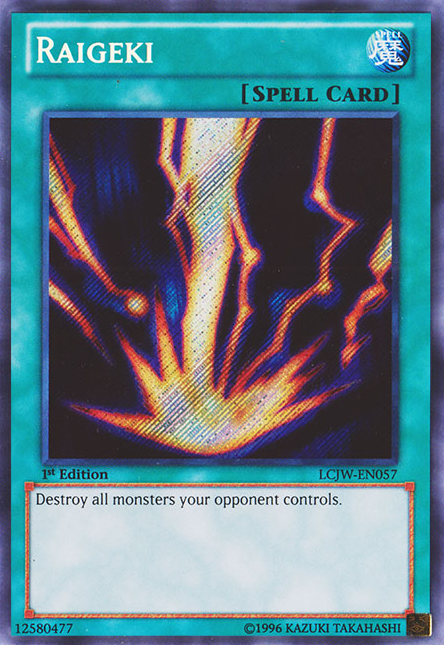 "Destroy all monsters your opponent controls."
You checking October TCG banlist then you suddenly go like "WHAT THE!?WHY THE HELL IS RAIGEKI THERE!?"
Raigeki is one of the really really old cards in Yugioh and was so broken back in its own days(Activate Raigeki and say goodbye to Jinzo,Blue-eyes and all other monsters your opponent went through hella lots of trouble for summoning them.).Well...thanks to being OP it got hated and banned and it's still banned but guess what?In October the card will be released with one of the wierdest banlists YGO has ever seen!Now let's take a look at how will Raigeki affect the current meta:
The current decks known as meta are Shaddolls,Burning Abyss&Tellars.
Shaddolls:All monsters have effects that are activated when sent by effects to graveyard and Winda(aka Midrash) can't even be destroyed by card effects!
Burning Abyss:They don't care how they are sent to grave like by Raigeki or anything else;You sent them to grave and they get their effects so I am pretty much sure they treat Raigeki just like all other cards they are facing.
Tellars:The plus power is real in this deck so it won't probably care about losing 1or 2 monsters not mentioning how their Xyz Monster(Deltaheros/Delteros) can Special Summon another one of his kind from Graveyard and usually giving a +1or a +2.
Soooo....Unlike old days I don't think Raigeki will be able to do much and far more than what Dark Hole's already doing in the current meta but still I think it's really weird to return this card while Dark Hole is still at 1...
Sooo....yeah...comment...below...opinions...