Posted on Fri Oct 10, 2014 9:18 am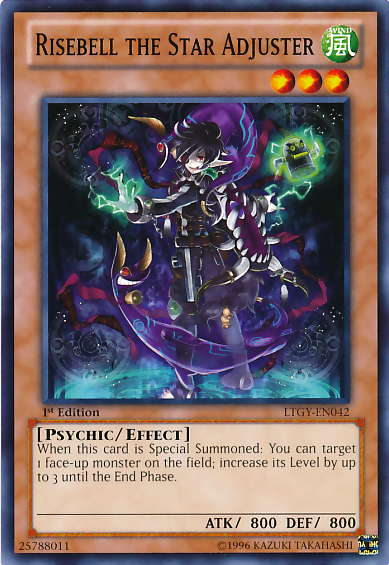 When this card is Special Summoned: You can target 1 face-up monster on the field; increase its level by up to 3 until the end phase.
Well 1st of all I would like to take some time explaining how the artwork is just...AWESOME!
 It's most likely the best artwork in the whole YGO(prove me wrong!) but what I am gonna talk about is the effect:
This effect just says when special summoned so pretty much you can create loops with Risebell in it and being a lvl3 psychic he's also a target for teleporter to summon 2 of this and go for any rank Xyz from 3 to 6 like the good ol' CHIDORI!(Yeah says up to and you can choose to not activate it at all) or go for one of this+a lvl3 tuner and special summon any lvl6-9synchro monster.
Also there's another famous card to summon this card called Emergency Teleport;I am pretty sure Y'all have heard the name and now you can use that card in a defensive way!
*Activates teleport when opponent summons 2 lvl4monsters
-Oh I am sorry did you want to Xyz summon?
Yeah just use Risebell and ruin the opponent's plans for Xyz and Synchro summoning.
Also Risebell is also usable in Gagagas and fortune ladies by activating Earth's effect or using effect on Gagaga magician and allow rank 10 summons with only Magician&Girl on the field.
So.....thoughts?


Last edited by Lainion on Mon Oct 13, 2014 9:05 am; edited 1 time in total