Posted on Fri Oct 10, 2014 11:44 pm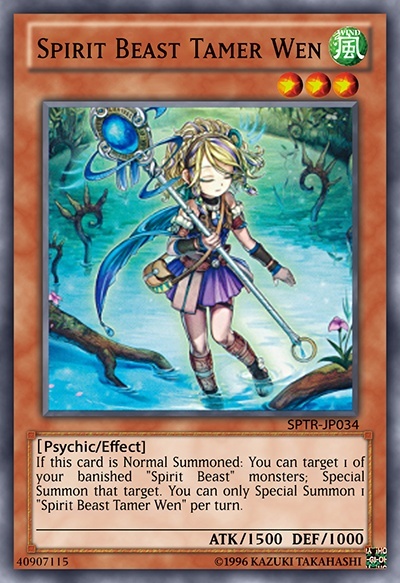 Single Card Discussion
Spirit Beast Tamer Wen
If this card is Normal Summoned: You can target 1 of your banished "Spirit Beast" monsters; Special Summon that target. You can only Special Summon 1 "Spirit Beast Tamer Wen" per turn.
Searchable by:                                             
Noble Spirit Beast Kannahawk                    
Sacred Spirit Beast Mount Kannahawk        
Emergency Teleport                                 
Synergy with:
Tempest, Dragon Ruler of Storms
Necroface
Gold Sarcophagus
Finally KONAMI decided to reveal last of it's Spirit Beast Tamers for 
Booster SP: Tribe Force
unlike other Spirit Beast Tamers this little cute thing is able to special summon banished Noble Beasts, yes you could revive Noble Spirit Beast's banished by Noble Spirit Beast Ramperta, use its effect and then return it to the Extra Deck use Combination with the Spirit Beasts, Fusion Summon Sacred Spirit Beast Mount Apelio and then attack for 4100! Now let's add Tempest and Bond With the Spirit Beast to the mix, if you Summon Apelio again total damage would be 9100, that is game is it not
 ?