Posted on Wed Aug 06, 2014 6:53 pm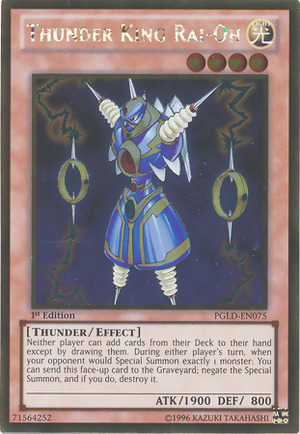 Card Discussion
Thunder King Rai-Oh
So who is Thunder King Rai-Oh? Thunder King is one of the best monsters to ever hit the Yu-Gi-Oh! world, allowing decks throughout the ages to counter searching and stop deadly summons through his effect. Thunder King Rai-Oh! has a ton of benefits that work in his favour, making him an incredibly difficult card to work around when your opponent plays him out. Even while Limited, Thunder King still damages decks today.
Benefits for Thunder King:

Listed below are some of the many great things about Thunder King Rai-Oh, which allows him to be played even today, several years after his release

-1900 ATK. This high amount of ATK points will allow Thunder King to run over most minor Level 4 monsters that decks will pull out against him.

-Stops cards from adding to hand. This stops cards such as Reinforcement of the Army and Pot of Duality from functioning while Thunder King is on the Field, which is pretty damaging to decks that rely on search cards and Pot of Duality for draw and deck thinning power.

-Negates summons. Thunder King can tribute himself to negate the Special Summon of an opponent's monster, which is incredibly helpful with the lack of double Solemn Warning in the format

-Negation effect can't be stopped. Cards like Fiendish Chain and Skill Drain don't stop Thunder King's effect from activating, since it'll activate from the Graveyard, and the cards can't stop the cost of Thunder King's effect from occurring. That's not to say it's impossible to stop Thunder King, but it's very very hard.