Posted on Sat Jan 31, 2015 2:37 pm
Entertainment Center (Dice & Forum Games)
Fellaz, ladies... As we promised when the activity slowly builds up we will make new stuff. This time we are opening Entertainment Center category with two sections: Dice Games and Forum Games.

Forum Games are basically all those topics that you had in Off-topic where you build your posts in free time while entertaining yourself a bit (Rate the signature above you, Songs you are listening to and other types of topics). With this we want to separate those mini "games" from regular off-topic threads. This way we have Miscellaneous category displaying real topics and you won't run into such games while browsing off-topic anymore.

Dice Games we introduced back in old DA as a really great addition to our academy life. Until now, Dice Games remained popular across the whole academy region here in forumotion. We are very proud that our idea was accepted so positively. We haven't made a new dice game for a very long time but here with we cut that long run by presenting you the YUBEL'S NIGHTMARE!

Now all the rules and infos about Dice Games are located actually within topics. Once you click on New Topic there, Forum Rules will be displayed in the red box for you and those rules will be Dice Game rules exactly! Now you don't have to search for the rules topic to remind yourself of some detail. It's all there always while you play. Also, Dice Roll bar is now styled better to be appealing and easier to find:

We created a nice shortcut widget to start the Yubel's Nightmare faster: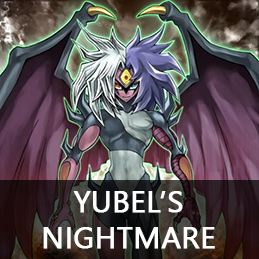 Winner is rewarded with 5 Coins. Except Battle Arena matches, this is now 2nd way to get Coins.

Are you going to beat the crap out of Yubel, or will  the Yubel do that to you, check it out yourself!