Posted on Thu Feb 05, 2015 7:50 am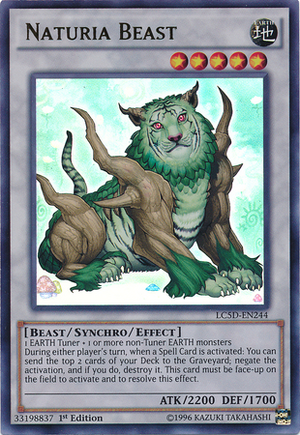 1 EARTH Tuner + 1 or more non-Tuner EARTH monsters
During either player's turn, when a Spell Card is activated: You can send the top 2 cards of your Deck to the Graveyard; negate the activation, and if you do, destroy it. This card must be face-up on the field to activate and to resolve this effect.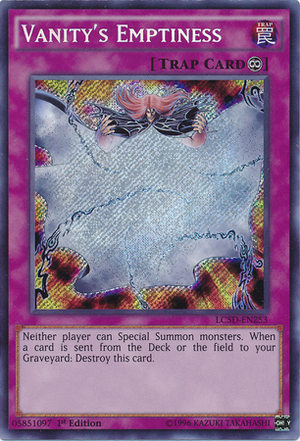 Neither player can Special Summon monsters. When a card is sent from the Deck or the field to your Graveyard: Destroy this card.
Naturia Beast, as we all should know, is a terrifying sight, being able to negate any and all Spells you try to use, completely rendering them useless. Backed up by the staple Trap, Vanity's Emptiness, you have a combo that ensures GG against practically every deck this format except Volcanics. If your opponent can't use Spells, how will they destroy Vanity? They can't MST or Night Beam your backrow, you'll just negate it! Decks of this format, like Burning Abyss and Tellarknights rely heavily on spamming Special Summons, and Qliphorts can't use their Pendulums with beast out. Let's look into detail how much this combo screws over the meta:
Burning Abyss:
If they can't Special Summon, they really can't do much of anything. They can't even destroy it with Fire Lake because they won't be able to get out two Burning Abyss if they can't special summon.
Qliphorts
Without Spells, they are doomed. They can't use Tool nor Saqliphort, so unless they get Skill Drain, they are nothing but 1800 beaters that can't run over Beast. In otherwords, if they don't sack Skill Drain, you win.
Satellarknights
Being a Rank 4 deck, they absolutely need to Special Summon. They have more backrow than BA and Qliphort, however, and they are LIGHT, so they can use Honest to kill Beast, but other than that, they are screwed.
Volcanics
This combo does absolutely nothing to them, they don't SS nor rely on spells and they can just Scattershot away your field.
Shadoll
They have their flip effects to rid of beast, but other than that, it's gg.
Nekroz.
There is literally nothing they can do about this. If you get out this combo, you win, no questions asked.[/b]
As you can see, with Vanity's Emptiness active, Naturia Beast is extremely hard to kill, since no Normal Summoned monster is generally going to be able to overpower 2200 attack points, and Vanity is very hard to get rid of without Spells. Problem is you can't summon Nat Beast unless you're using an EARTH Synchro deck, but there is plenty of decent EARTH Synchro decks out there, such as Karakuri,  X-Sabers, Six Samurai, and Deskbot. These rogue decks have the ultimate anti-meta combo within them. So what are you waiting for? ASSEMBLE ALL EARTH DECKS!!!