Posted on Sun Mar 08, 2015 3:59 pm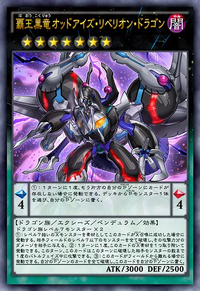 Pendulum Effect
4 Once per turn, if you do not have a card in your other Pendulum Zone: You can choose 1 Pendulum Monster from your Deck and place it in that Pendulum Zone. 4
Monster Effect
2 Level 7 Dragon-Type monsters

If this card is Xyz Summoned using an Xyz Monster that was treated as a Level 7 monster as any of its Materials: Destroy as many Level 7 or lower monsters your opponent controls as possible, and if you do, inflict damage to your opponent equal to the total ATK that those destroyed monsters had on the field. Once per turn: You can detach 1 Xyz Material from this card; this card can attack a number of times each Battle Phase this turn, up to the current number of monsters that were destroyed while in your opponent's possession this turn. If this card leaves the field: You can destroy all cards in your Pendulum Zones, and if you do, place this card in your Pendulum Zone.
Uh...Konami made an Xyz Monster that is also a Pendulum. HOW THE HELL DOES THIS WORK?!!!
That aside...it can put a Pendulum straight from the Deck onto the field, so depending on how Pendulum Xyz work, Qliphort might be able to use it to dig Scout right from the deck, making them even better. If not, then this is still an OTK machine that requires two level 7 Dragons, aka making it Ruler and Red-Eyes support.